Residential Roofs
When you are looking to repair or replace your roof, you need more than an experienced roofer. Using quality materials makes your roof more durable and long lasting. Using inferior materials can result in roof failure or needing to repair more often then would be necessary regardless of the workmanship quality.
Products We Use
Owens & Corning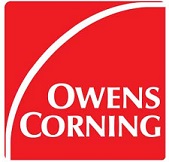 Owens and Corning offers a wide variety of products. Here we have featured a few. For a list of all roofing products and colors, please visit https://www.owenscorning.com/en-us/roofing.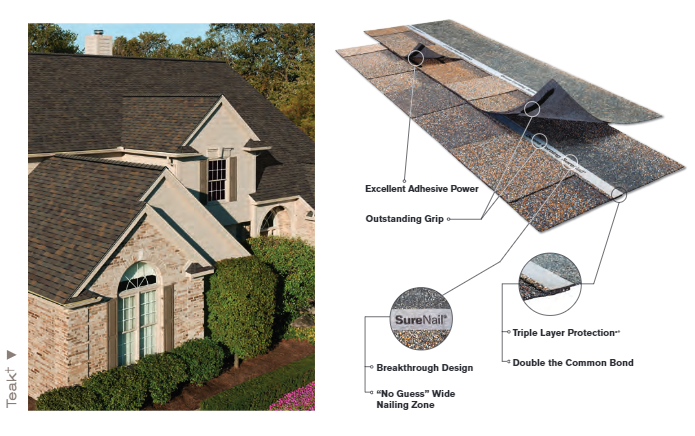 SureNail Technology
Breakthrough Design- Woven fabric engineered to deliver consistent fastening during installation.
Triple Layer Protection-Triple layer of reinforcement occurs when the fabric overlays the common bond of the shingle laminate layers that offers excellent fastener holding power.
Outstanding Grip- Owen and Corning's enhanced Tru-Bond Sealant grips tightly to the engineered fabric nailing strip on the shingle below.
Excellent Adhesive Power- Wide adhesive bands specially formulated to help keep shingle layers laminated together.
Exceptional Wind Resistance- With only 4 nails, engineered to deliver 130-MPH wind warranty performance. Fewer nails can mean fewer deck penetrations.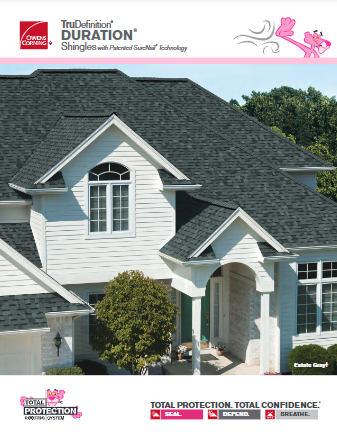 Bold contrast. Deep dimension. TruDefinition.
Owens and Corning's TruDefinition Duration Shingles are specially formulated to provide great contrast and dimension to any roof through the use of multiple granule colors and shadowing. They offer combination of color and depth like no other.
These shingles are available in popular colors and feature a Limited Lifetime Warranty (for as long as you own your home) and 130-MPH Wind Resistant Limited Warranty (from Owens and Corning) and are produced with StreakGuard Protection to inhibit the growth of airborne blue-green algae. Owens and Corning provides a 10 year Algae Resistance Limited Warranty. Not only do these shingles provide outstanding color and dimension and come with with impressive warranties, they also come with the advanced performance of patented SureNail Technology.
TruDefinition Duration Colors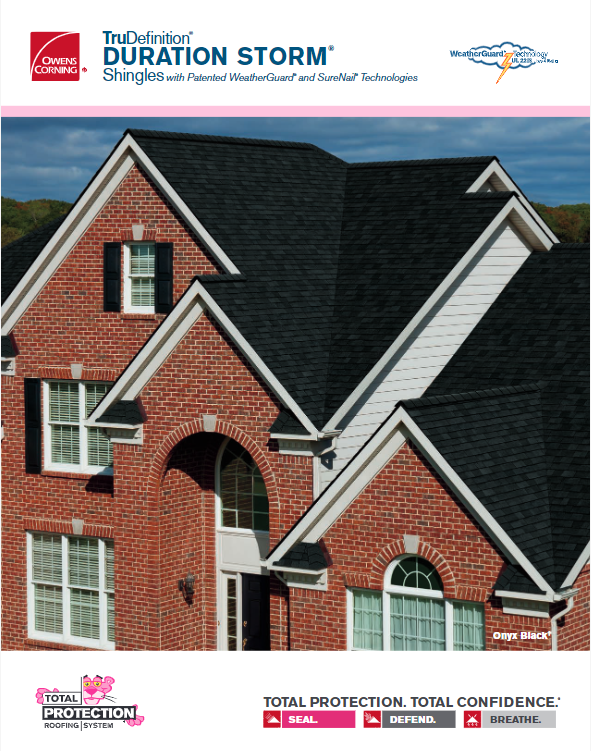 Total Protection. Total Confidence.
Unlike standard shingles, these shingles feature patented WeatherGuard Technology. TruDefinition Duration Storm Shingles have integrated polymeric backing material that allows the shingles to meet one of the industry's impact resistance highest ratings, UL 2218, Class 4 as well as utilizing SureNail technology that provides Triple Layer Protection (see above specs).
This shingle and corresponding ProEdge Storm Impact-Resistant Hip & Ridge shingles are designed for outstanding holding power against the high winds of sever storms- Up to 130 MPH.
They offer visual appeal and performance that will stand up to mother nature as well as a Limited Lifetime Warranty (for as long as you own your home), Streakguard Protection with a 10-year Algae Resistance LimitedWarranty (manufacturer warranty).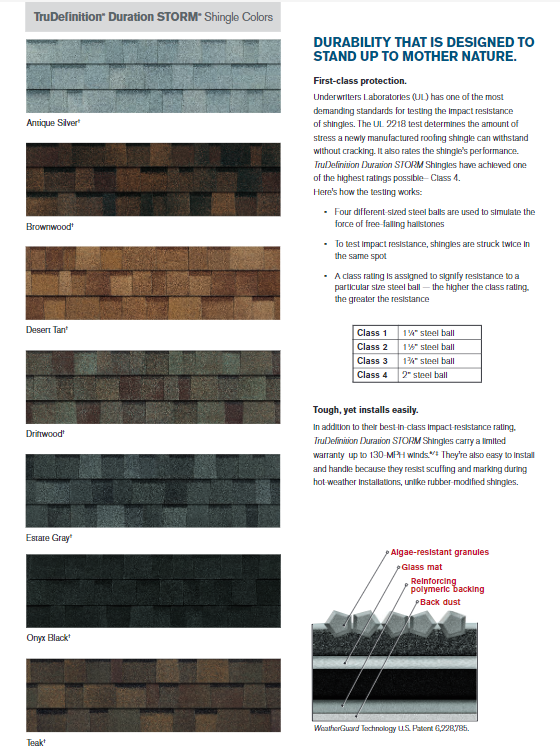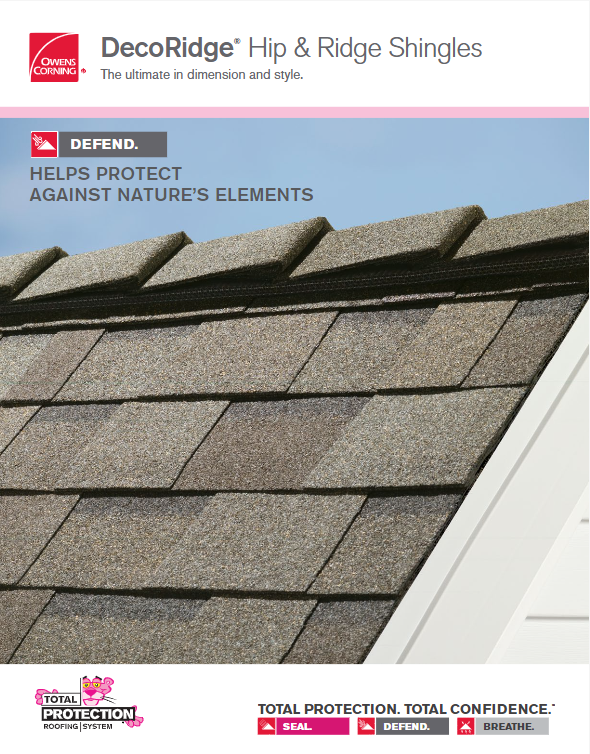 Thickness. Depth. Appeal.
DecoRidge Hip & Ridge shingles offer:
High Profile- Multi-layered; thick bull-nosed design offers a refined look.
Durable Construction- Heavyweight laminate construction with SBS-modified asphalt is the key part of the exposure that won't crack- even in cold weather- offering high performance and flexibility.
Pre-formed Design- Simple instillation with no need for folding or bending during installation.
Exceptional Performance- 110-MPH* wind resistance with standard 2-nail application.
Matching Color Palette- Available in corresponding Owens and Corning shingle colors to ensure seamless color blends and brand consistency.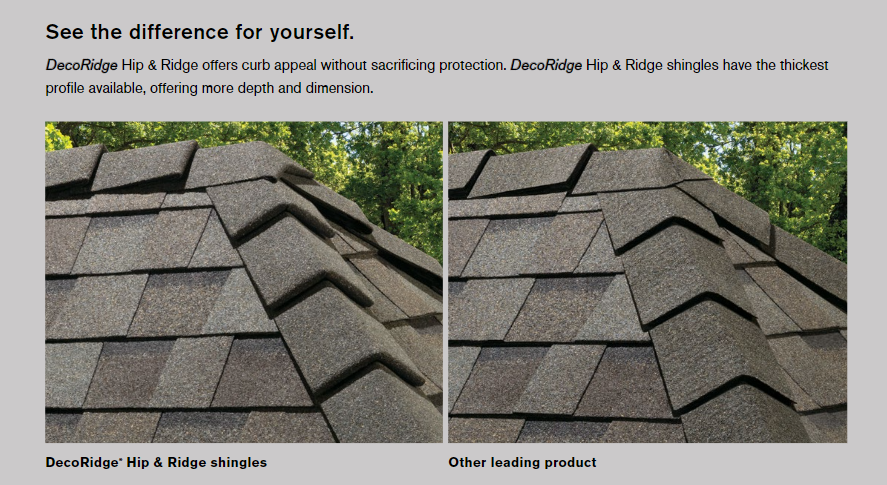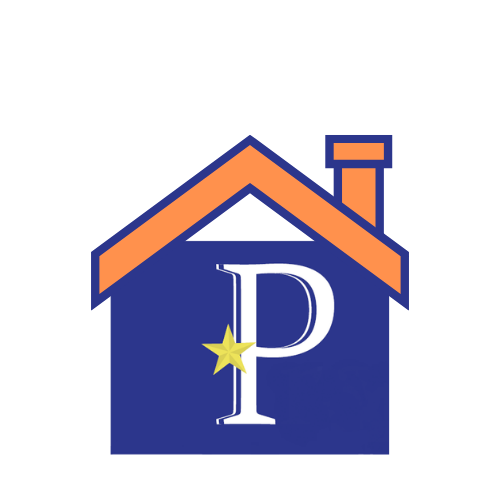 Certainteed

Certainteed offers a wide variety of products. Here we have featured a few. For a list of all roofing products and colors, please visit https://www.certainteed.com.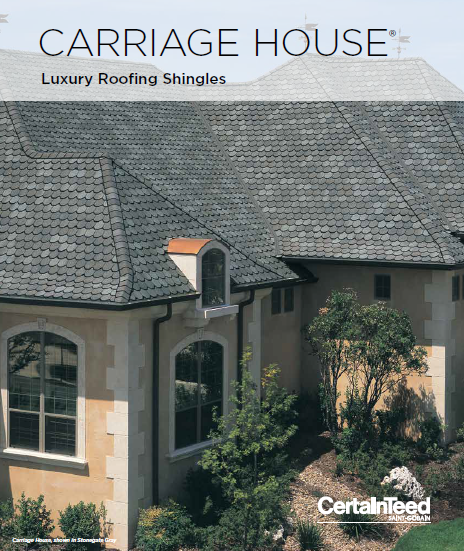 Slated for Perfection
From the sweep of a Victorian frame to the symmetry of a Colonial gable, the preservation of timeless architecture accented by steeply pitched roofs is a hallmark of the Carriage House® luxury shingle. Carriage House has been painstakingly designed to evoke the unique hand-crafted look that is at home with our heritage. And the level of protection provided by Carriage House's
super heavyweight construction makes for a perfect pitch.

ARCHITECTURAL VISION
Equal measures of craftsmanship and architectural creativity are at play in this shingle. With cut-away corners and wide, dark shadow lines, Carriage House creates a one-of-a-kind look of scalloped-edge natural slate…the perfect
roofline for your home.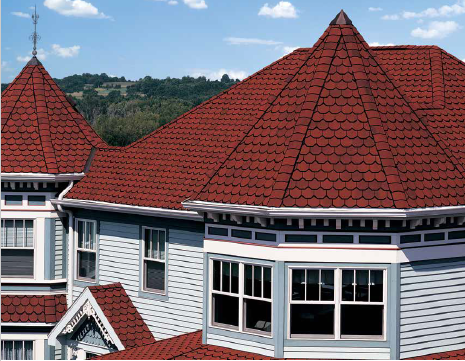 Perfect Pitch in the Grand Style

Carriage House, shown in Georgian Brick
• Hand-crafted scalloped cut that mimics natural slate
• Dynamic color options
• StreakFighter® protection against algae
• Superior resistance to fire and high winds
Trust Your Home to Landmark®
Our dedication to making the highest quality roofing systems continues to earn
the respect of top building professionals. And our product portfolio offers the widest
variety of design and color options in the industry. It's no wonder that more than a
million homeowners across North America choose CertainTeed each year.

And the job doesn't stop once the roof goes on. Every CertainTeed product is backed
by our industry-leading manufacturer's warranty, allowing you to rest confidently
and comfortably for years to come.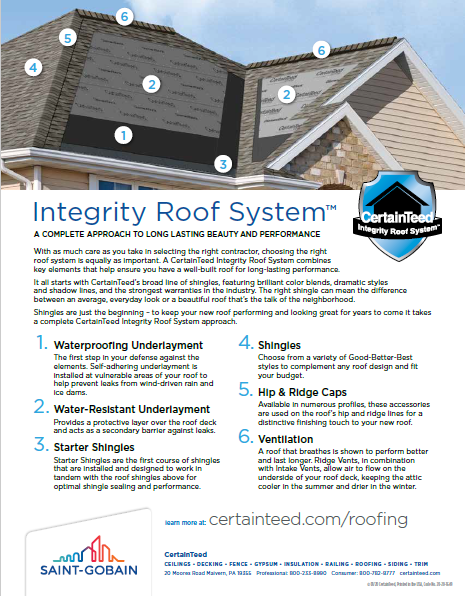 Malarkey

Malarkey offers a wide variety of products. Here we have featured a few. For a list of all roofing products and colors, please visit https://malarkeyroofing.com/products.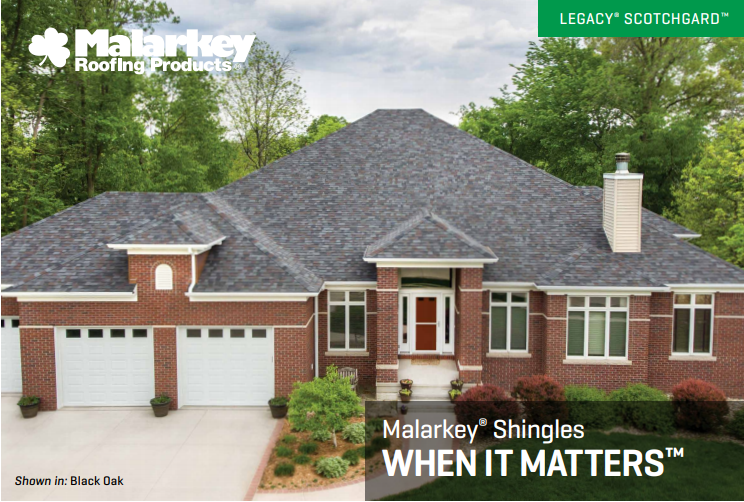 Architectural Shingles
NEX® MODIFIED ASPHALT TECHNOLOGY
Legacy® Scotchgard™ is an algae-resistant architectural shingle engineered with industry leading, sustainable NEX® Polymer Modified Asphalt Technology (PMA), which combines high-grade asphalt (weathering) with advanced polymers
(strength, flexibility) and upcycled materials (durability, sustainability) to rubberize the shingle for exceptional all-weather performance, superior granule embedment, and longer product life.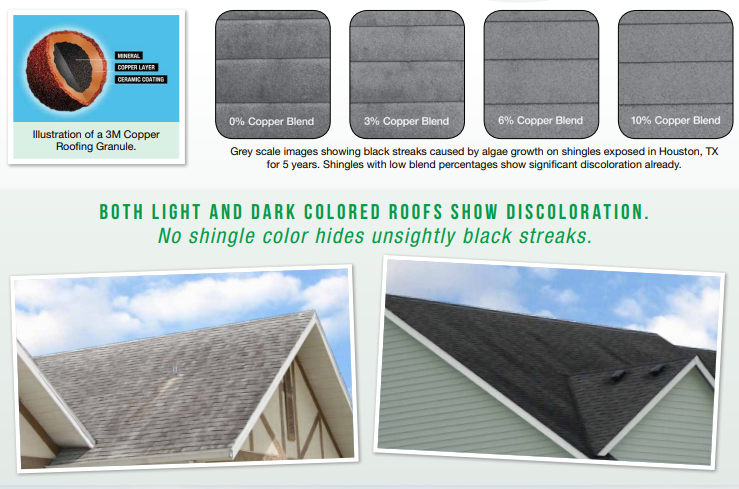 HOW DOES THE WHOLE SYSTEM WORK ?
Malarkey Roofing Products® featuring Scotchgard™
Protector help preserve your roofing investment.
Shingles featuring Scotchgard™ Protector utilize
3M™ copper-containing granules and have been
third-party tested to make sure manufacturing
requirements are met. Copper granules are designed
to allow the copper ions to slowly disperse and
protect the roof from algae over a period equal to the
useful life of the shingles themselves.
Malarkey uses the correct ratio blend of copper
granules to provide proper coverage and
protection from black streaks caused by algae.
And More!
We also offer metal, silicon, and much more! Contact us today to find out more!